Junior Branch (JB) is how you live CISV values in your local community. As a developing chapter that skews very young, we've been working on building ours up, and wanted to share a bit of what JB has been up to in 2020 and 2021!
Kick-Off Event – February 2020
Our JB kick-off event had youth ages 9-13 meeting up today for a trifecta of activities: JB 101 (what is JB and how will we JB in PDX), a documentary/discussion session, and a baking project that was donated to Portland Homeless Family Solutions (PHFS).
Outdoor Activity Day – October 2020
Outdoor fun at Mt Tabor Park…and sustainable development (the CISV 2020 educational theme)! Activities included a quiz to explore household energy usage, artistic representations of household inventions to help conserve energy, and hula hoop races! Our JB inventions: windows that are energy efficient solar panels, a device to turn off your household power if you go over your allocation, a device to turn off the power to your tv when not in use, a walking for transport plan, and more!
We also collected in-kind donations for Portland Homeless Family Solutions.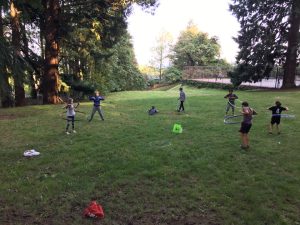 Virtual Cooking Class – November 2020
We discussed the role of food in culture, and made delicious Taco Cups together!
Among Us – December 2020 and February 2021
It was the hottest gaming trend, the quarantine craze of teamwork and betrayal! Our JBers met up via Zoom to hangout and enjoy each other's company, working together to figure out who the imposter was before it was too late!
International Candy Tasting – March 2021
We joined CISV Chapters from across the country to participate in the International Candy Tasting put on by CISV San Francisco. Peace education with a snack? We are into it!
That's it for now! We can't wait for the next time we can meet in person in January 2022 for our selection event/activity day!